Thoughts from Dr. Addison
Greetings,

First, please allow me to take a moment of personal privilege and acknowledge the outstanding diligence and dedication of my predecessor, Mrs. Angela Landry. Mrs. Landry's unprecedented commitment to the students of Prattville Intermediate School as well as the greater Prattville community as a whole, was no less than extraordinary.

That said, I am deeply humbled by the leadership opportunity that now stands before me. Prior to this appointment at PIS, my professional experiences have all been primarily at the secondary level. To say that I am immeasurably excited to work with a group of exceptional educators closer to the front end of where formal education actually begins is definitely an understatement.

Among our faculty and staff exists four hundred plus years of professional experience and expertise in various capacities. Thus, we are highly trained, competently capable, and uniquely qualified to provide an excellent education for our students. However, our efforts would be futile at best without the continued support of our parents. It is an irrefutable fact that the likelihood of sustainable success for students vastly increases when parents are actively engaged in every aspect of a child's education. Invariably, parental partnerships are vital to our overall success.

Lastly, I am extremely confident that this will be a great year not only for our students, but for all of our stakeholders as well because I truly believe that boundless success is imminent and the expected outcome of our collective understanding of this guiding principle,Every Student, Every Faculty & Staff Member, Every Day, Whatever It Takes!!! Thank you parents for entrusting us with the day to day love, care, support, and education of your children.

GO COUGARS!!!

H. Addison, PhD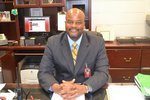 Dr. Hosea Addison
Principal

Phone:
Email:
Every Student, Every Faculty & Staff Member, Every Day, Whatever It Takes!!!